HURRA! ES IST EIN MÄDCHEN! – 25 biografische Skizzen zu Chemnitzer Frauen
(Hooray! It's a girl! – 25 biographical sketches of Chemnitz women)
Germany 2018, 145min
short description
The documentary "HURRA! ES IST EIN MÄDCHEN!" introduces 25 biographical sketches of women who are connected in very different ways with the history of the city of Chemnitz. Resumes are exfoliated, highlighting the work of these women for Chemnitz.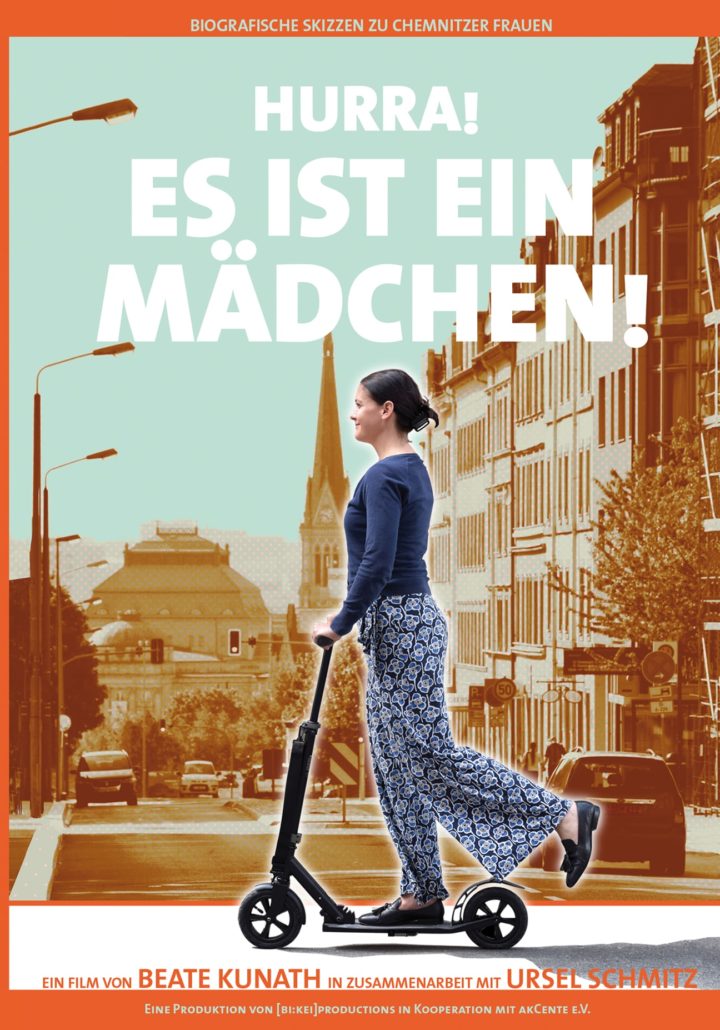 The DVD of the film is available at:
akCente e.V. / Frauenzentrum Lila Villa
Kaßbergstraße 22
09112 Chemnitz / Germany
26,00 € (including VAT and shipping)
sorry – no english subtitles
The SOUNDTRACK of the film is ONLINE:
Ksenija Ladić released her music under the pseudonym KSEN. She created 25 tracks for the film and 10 tracks being released exclusively as an ONLINE album now.
description
In the documentary "HURRA! ES IST EIN MÄDCHEN!" discovered a female city writer in the archives of the city of Chemnitz a reference to the first with the name 'mother Käthe' named midwife from 1522. In the course of her life, birth assistance was a solidary act among women. Nevertheless, with her research, the city writer becomes an obstetrician for the female side of 875-year-old Chemnitz historiography.
With great empathy, director Beate Kunath flips through the stories of women and brings together the different ways of life. Women are portrayed through interviews, historical materials and with regard to their places of action in Chemnitz – in a historical context right up to the present day. We experience self-confident women who, with their anger and wit, sharpen their eyes for contradictions, question power relations and, in a refreshing way, retell the story of Chemnitz.
interviews with
Anett Schmid, Uwe Fiedler, Gabriele Viertel, Pia Hamann, Prof. Dr. Peter Funke, Beate Ritter, Dr. Christoph Müller, Gabriele Roßberg, Folke Stimmel, Christiane Remm, Oberbürgermeisterin Barbara Ludwig, Dr. Jürgen Nitsche, Prof. Karl Clauss Dietel, Peer Ehmke, Ralf W. Müller, Kammersängerin Heidrun Göpfert, Marion Krahmer, Thomas Billhardt, Hans-Ulrich Vey, Karin Frank, Christa Rauer, Michael Backhaus, Philipp Keel , Brigitte Stefan
with
Anna Keel (1940 – 2010)
Beatrix Haustein (1974 – 2002)
Brigitte Stefan (*1952)
Bruni Löbel (1920 – 2006)
Elfriede Vey (1922 – 1997)
Elisabeth Opitz (1902 – 1993)
Emy Schmidt-Rottluff (1884 – 1975)
Frieda Freise (1886 – 1938)
Gertrud Caspari (1873 – 1948)
Gertrud Korb (1910 – 1989)
Helene Funke (1869 – 1957)
Helene Wagner (1870 – 1945)
Hildegard Krahmer (1912 – 1985)
Irmtraud Morgner (1933 – 1990)
Jutta Müller (* 1928)
Magdalena Müller (1887 – 1943)
Maria Schmid – Billhard (1901 – 1983)
Marianne Brandt (1893 – 1983)
Marie Pleißner (1891 – 1983)
Marie Tilch (1902 – 1981)
Martha Schrag (1870 -1957)
Minna Simon (1845 – unbekannt)
Richenza von Northeim (1087-89 – 1141)
Rosl Schönfeld (1921 – 2013)
Traude Hanf (1912 – 2004)
crew
actress Martina Hesse
voiceover Nina West, Martina Hesse, Andreas Klumpf
camera Beate Kunath
2. camera Ralf Glaser
props Torsten Neundorf
light Hendrik Reichel
music Ksenija Ladić
editing Beate Kunath
editing consultant Sirko Knüpfer, Elke Koepping, Hendrik Reichel
sound mixing / sound design / voice recordings Sebastian Reuter / Klangkosmonauten
foley artist Peter Sandmann
color correction Domingo Stephan / wave-line
research Beate Kunath, Ursel Schmitz, Andrea Rüthel, Andrea Feldmann, Babett Poetzsch
text Beate Kunath Ulrike Almut Sandig
graphic / poster Eléonore Roedel
poster motif André Koch
production manager Iris Tätzel-Machute, Ilona Seifert, Beate Kunath
the film has been funded by
Stadt Chemnitz
Kulturstiftung des Freistaates Sachsen
Sächsische Landesanstalt für privaten Rundfunk und neue Medien (SLM)
eins energie sachsen
Rosa-Luxemburg-Stiftung Sachsen
Weiterdenken – Heinrich-Böll-Stiftung Sachsen e.V.
and through donations and a crowdfunding on Startnext
Link: https://www.startnext.com/hurra-es-ist-ein-maedchen
production
[bi:kei] productions / Beate Kunath in Kooperation mit
akCente e.V. / Frauenzentrum Lila Villa
© 2018
[bi:kei]productions / Beate Kunath | Frauenzentrum Lila Villa
screenings
11/2019 Industriemuseum Chemnitz / Germany
09/2019 Moviemento Kino Berlin / Germany
04/2019 Bambi Filmstudio Düsseldorf / Germany
03/2019 Gewerkschaftshaus Dresden / Germany
01/2019 Schlossbergmuseum Chemnitz / Germany
10/2018 Clubkino Siegmar / Germany
PREMIERE – 25. August 2018
im Rahmen der Irmtraud-Morgner-Festtage
(DAStietz, Moritzstrasse 20, 09111 Chemnitz)