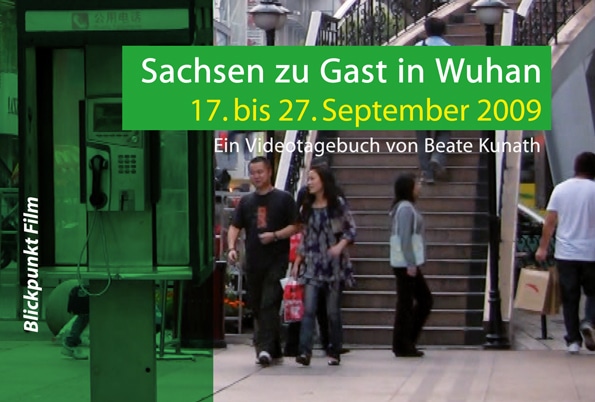 SACHSEN ZU GAST IN WUHAN
(SAXONY TO GUEST IN WUHAN)
Germany 2010, 98min
a video diary by Beate Kunath

short description
Various Saxon institutions want to prove that Saxony is also a film-country with a program in the capital Wuhan of Saxony's partner province Hubei within the framework of the partnership year "Germany and China – moving together". They present renowned festivals with international reputation, but also a film scene that has traditional strengths in animated film and children's films.
Other partners are involved in workshops for children.
The film diary has been made in September / October 2009.
thanks
Gundulla Sell
Christiane Wilhelm
Karla Wintermann
Martina Groser
Rolf Hofmann
Annegret Richter
Michael Harbauer
Lin Jun
allen Partnern in Wuhan und Peking
Jutta Wolf (Sächsische StaatsKanzlei)
Carsten Utikal (SMWK)

special thanks
Kelly Feng
Uwe Penckert
supported by
Sächsische Staatskanzlei
Goethe Institut China

financed by
Sächsisches Staatsministerium für Wissenschaft und Kunst


production
[bi:kei] productions / Beate Kunath
© 2010