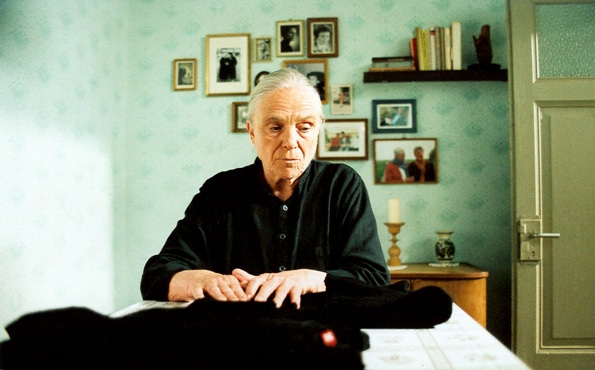 IM SOMMER SITZEN DIE ALTEN
(in summer they sit, the elderly)
Germany 2009, 23min, shot on 35mm
 
short description
Petra is a filmmaker. The death of her grandmother Magdalena, the conversations with her partner Gertrud, a suitcase of her grandmother and the objects contained therein inspire her to write a poem. She keeps her memories by filmed this poem with black and white images.
The script for the film was based on the poem IM SOMMER SITZEN DIE ALTEN by Ulrike Almut Sandig.
comment by the filmmaker Beate Kunath
How remembered changes over the years, how we attach memories to photos, and most of all, as we try to capture incisive things in our lives, to remember it as accurately as possible, these are often the starting points of my films.
In April 2006 I attended a reading of the Leipzig author Ulrike Almut Sandig. Her poem IM SOMMER SITZEN DIE ALTEN I took in thoughts and pictures on my way home. The thunderstorm anxiety of old people and their packed suitcases in a simple village is thematized. Good lightning rods have long been a peculiarity and so the villagers are afraid of thunderstorms and had always a suitcase with their belongings at hand.
Personally I know baggage suitcases from the stories of my grandmother, her suitcase was packed with every bomb attack on the city of Chemnitz.
The literary model for my film does not necessarily have to be interpreted as a poem about two women. It is my very own variant.
cast
Gertrud Maria Mägdefrau
Petra Martina Hesse
Magdalena Reinalde Schink

poem
Ulrike Almut Sandig

music
Marlen Pelny

script and director
Beate Kunath
team
assistant director Marlen Pelny
camera Thomas Beckmann
2. camera Beate Kunath
camera assistant Uli Krause
light Hendrik Reichel, Frank Schreiber
sound Erik Wiesbaum
sound assistant Jan Soldat
props / set construction Torsten Neundorf, Marek Liebermann, Frank Schreiber
photo editing Yvonne Zückmantel, René Reuter, André Koch
make up Stella Terlinden
script / continuity Nicole Schink, Marlen Pelny
editing Jana Teuchert
music mastering Kay Dubberke
sound mixing Erik Wiesbaum
catering Elke und Klaus Dieter Kunath, difranco
lab Cine Postproduction Geyer Berlin
film technic Mondi Filmtechnik GmbH, Werkleitz e.V., Lichtservice Hauser, Chemnitzer Filmwerkstatt e.V.
head of production Ralf Glaser
production office Ines Wolter
production assistant Nicole Schink
thanks to
Ehrenfried Schaller
Werner Lustig
Gerda Titz
Ingrid Labuhn
Familie Schink
Familie Kunath
Sirko Knüpfer
Astrid Lohse
the film has been funded by
Kulturstiftung des Freistaates Sachsen
Kulturbüro der Stadt Chemnitz
Werkleitz
IM SOMMER SITZEN DIE ALTEN appeared in the book of poems "Streumen" in the Connewitzer Verlagsbuchhandlung Peter Hinke, Leipzig 2007 and is published for the first time within the onlineforum for authors .
link www.poetenladen.de
production
Chemnitzer Filmwerkstatt | [bi:kei] productions / Beate Kunath
© 2009
publications
11/2010 IM SOMMER SITZEN DIE ALTEN appears on the DVD"L-SHORTS – DIE ZWEITE 
" by Edition Salzgeber
"L-Shorts – Die Zweite" PL, NL, USA, D, F 2002–2009, Edition Salzgeber 
…. The absolute highlight is Beate Kunath's "IM SOMMER SITZEN DIE ALTEN". The poetic journey through time around an old lady, & her deceased partner and her granddaughter is sustainable and a highly detailed, beautifully filmed homage to the love story of our lesbian grandmothers." (Siegessäule 11/2010)
01/2010 IM SOMMER SITZEN DIE ALTEN 
is listed in the short film catalog of AG Kurzfilm – German Short Films 2010. The catalog includes 100 outstanding German short films from 2008 and 2009.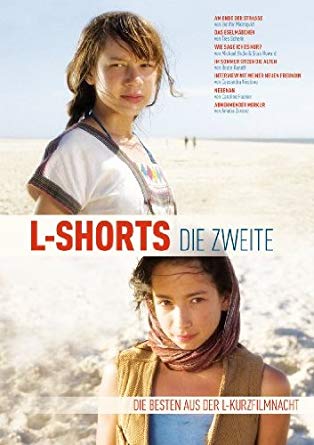 19,90 € (+ shipping through Amazon)
screenings
12/2011 Merlinka – International Queer Film Festival Belgrade / Serbia
10/2011 Spielräume – Kurzfilme von Beate Kunath Moviemento Kino / Berlin // Germany
09/2011 Some Prefer Cake – Bologna Lesbian Film Festival / Italy
08/2011 North Carolina Gay & Lesbian Film Festival Durham, NC / USA
06/2011 identities. Queer Film Festival Wien / Austria
04/2011 CINEFFABLE – 23 Paris Feminist & Lesbian Film Festival / France
03/2011 Nachtschicht Zelluloid – Schauspielhaus Chemnitz / germany
03/2011 Cinepoem Competition – Go Short International Short Film Festival Nijmegen / The Netherlands
10/2010 10-10 MEDIA Short Film Festival Namur/ Belgium
10/2010 5th ZEBRA Poetry Film Festival Berlin / Germany
10/2010 IRIS- Prize Festival @ GAZE – Lesbian and Gay Film Festival Dublin / Ireland
04/2010 Sonntags-Club / Berlin // Germany
04/2010 Gerede e.V. / Dresden /7 Germany
03/2010 The Pink Film Days – Roze Filmdagen, the Amsterdam Gay & Lesbian Film Festival
 / The Netherlands
01/2010 L-Filmnacht in Augsburg, Berlin, Bielefeld, Bremen, 
Dresden, Essen, Freiburg, Hamburg, Hannover, Kiel, Magdeburg, Mannheim, München, 
Offenbach, Oldenburg, Regensburg, Stuttgart, Wuppertal und Würzburg // Germany
11/2009 
CHERIES-CHERIS Paris LGBT Film Festival / France
11/2009 
QUEERSICHT lesbisch-schwules Filmfestival Bern / Switzerland
10/2009
 20. Lesbisch-Schwule Filmtage Hamburg // Germany
10/2009 
PERLEN 2009 – Hannovers lesbisch-schwules Filmfest / Germany
10/2009 
16. queerfilm Festival Bremen / Germany
10/2009
 The Iris Prize Festival Cardiff / Great Britain
09/2009 
Elles Tournent – Frauenfilmfestival Brussels / Belgium
09/2009 
10 Circuito Off – Internationales Kurzfilmfestival Venedig / Italy
08/2009
 Q!Festival Jakarta / Indonesia
06/2009 
Frameline33 – International LGBT Film Festival San Francisco / USA
06/2009 
Clubkino Siegmar / Chemnitz // Germany
06/2009 
23. Festival MIX Milano / Italy
04/2009
 21. Internationales Kurzfilmfestival Dresden / Germany
04/2009
 PREMIERE TORINO GLBT Film Festival / Italy